How to unerase deleted files easily and fast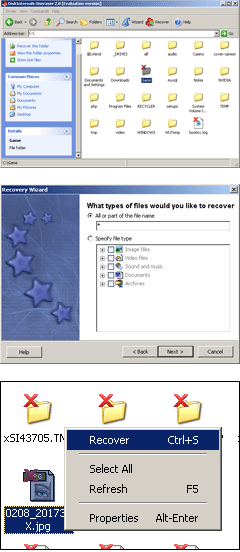 Today we'll show you that now you are able to easily and fast restore mistakenly deleted files without bothering to call the service center. The problem of deleted information unerasing often comes up in police departments where it is important to restore the information deleted from the seized computer. But now every user is able to perform this task. DiskInternals Research company has developed a program that lets you simply and quickly restore the files that have been deleted from any of your disks, were it floppy or hard disk, flash card or memory stick. The DiskInternals Uneraser program can work with all of these information storage devices.
The program interface is made comfortable and in the way Windows XP users are accustomed to. The program is so easy to use that you won't ever need to consult the help section.
One of the unique features of the program is its ability to create the images of the whole disk or just part of it. It may help you if you need to save only bootable section or any other part of the disk.
If you've not yet grasped what this program is needed for, then I'll try to clarify it here.
Have you ever unintentionally deleted the information that you need? If your answer is "yes", then this program will help you restore the deleted information even if you've already emptied the Recycled Bin.
You want to know what your child has been busy with while working at the computer, even if he deleted all the files he used and left no trace of his activity? Just restore the deleted files with DiskInternals Uneraser and you'll get the whole picture. It might help you warn him against possible mistakes.
At the beginning of the article I mentioned the police department because I personally have been a witness and participant of data unerasing in one of the police departments. A good friend of mine works there and once they removed a hard disk from the counterfeiter's computer. So they had to restore the deleted information and find out if there were any files with high quality images of the national currency. My friend called me and explained the situation, so I took the disk with unerasing software and headed for the department. Among the variety of unerasing tools I picked up DiskInternals Unerase for its convenience and speed, and the whole unerasing process (including software installing) took me only 15 minutes. Of course, the counterfeiter has been punished.
So, as you can see, DiskInternals Uneraser will be useful for everybody. It can help you at your workplace or at home, protect the law or protect your child. This program is a real life-buoy for your disk, so I suggest that you download and install this program and see it yourself.
September 21, 2004
Alex Lander